Stepparent Adoption & Adult Adoption Attorney, Randall Hicks
• 36 years of experience - practice limited to only adoption cases.
• 140+ five-star client reviews and the highest rating on Avvo.
• Rated AV "preeminent" by Martindale-Hubbell,  the highest possible rating and achieved by only the top 10% of attorneys nationwide.
• Five-star Yelp and Google ratings.
• A+ BBB rating.
• Member of the Academy of California Adoption Lawyers (ACAL).
• Leading author on adoption and stepparenting.
• Profiled on Wikipedia as an attorney and author.
SPECIAL NOTICE: Randy and Allen (see his bio below) do their consultations (approximately 30 minutes and free) by  video (Zoom) or phone, whichever you prefer. There is no need to leave your home. To schedule your free consultation, complete the online Questionnaire for either stepparent adoption (of a child under age 18) or adult adoption (a stepchild or person 18+).
NEW COURT OPTION: Due to Covid-19, the Los Angeles County Superior Court now has an option where the adopting parent and adoptee no longer need to go to court for the final hearing. So most stepparent and adult adoptions can be done without you ever needing to go court. This new procedure is made possible by the attorney knowing the special procedures and having the adopting family notarize specific documents waiving the hearing.
Hello, I'm Randall Hicks and I'm an adoption attorney. I focus on step parent adoption and adult adoption. Unlike most family law lawyers (who just dabble in adoption and do 99% divorce and child custody), I have limited my practice to adoption for 36 years. My goal is to make both step parent adoptions and adult adoptions fast, economical and worry-free. Stepparent adoptions are usually completed in 3-4 months start-to-finish when the absent parent is consenting, and adult adoptions usually only take 2-3 months.
I love being a stepparent and adult adoption lawyer and believe I do a good job for all my clients. I am in the latter years of my career and have scaled down my law practice. While most attorneys try to appear "big time," as I've become older I'm proud of my law practice now being "small."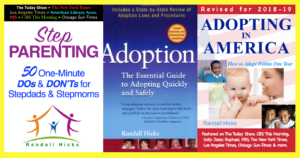 When I first opened my law office in Orange County right out of Pepperdine Law School, I was a one-man office. I did everything. Me and only me. And I loved it. As years went by, I was fortunate to become successful. My staff grew, I expanded to include an international adoption program in Ukraine, as well as multiple offices, and I wrote several popular adoption/parenting books that were featured on The Today Show and CBS This Morning, as well as other national TV shows that are no longer on the air, like Sally Jesse Raphael, John & Leeza from Hollywood, Mike & Maty and The Home Show. I hosted the 1991 PBS series, Adoption Forum. My daughter and I recently co-authored a novel, The Girl Without a Face. It's funny, insightful and empowering. If you love to read I hope you will check it out.
Then several years ago I realized I was burning the candle at both ends. I still loved the adoption field, just not on the scale I was doing it. So I stopped doing what had been a big part of my practice - newborn and international adoption - and let my staff go, and have reverted back to how my law practice was when I first started out . . . when I actually enjoyed it the most, personally knowing each client and having plenty of time on each case. Now, I keep things small by limiting my practice to adult adoptions, and only to cases where I believe the clients and I are a good fit. I think I must have the most narrowly defined adoption practice imaginable. My of-counsel associate attorney, Allen Hall (bio below) handles, all the stepparent adoption cases where the adoptee is a minor, so we have a simple division of labor.
Unlike many attorneys where getting past the receptionist is impossible, I am happy to answer a quick question even for non-clients at the numbers below, or at Randy@StepparentAdoptionCenter.org. On the personal side, I have two children (now adults) and I'm proud they are brave people contributing to the world. (My daughter is a teacher in Asia, and my son an aspiring filmmaker.) The highlight of my life has been raising my children and watching them grow up. I'm sure for you with your family, it is the same. It would be an honor for me to help you formalize your family through adult adoption.
ADOPTION ATTORNEY, ALLEN HALL (OF COUNSEL)
Unlike most attorneys who go straight from college into law school, Allen has had a lot of valuable life experience prior to graduating cum laude from Thomas Jefferson Law School and becoming an attorney. He served in the Air Force, then was a police officer for ten years before being injured in the line of duty and forced to retire. He began his own law practice focusing on family law and criminal law. Unlike most attorneys who never actually go to court and instead live behind their desks and do all their work behind their computer and phone, Allen is an experienced litigator who chocked up over 100 litigated matters in his first five years of practicing law.
Allen and Randy met when they were opponents in a litigated adoption case. Randy was representing the adopting stepfather and Allen was representing the objecting birth father. Randy was so impressed with Allen's representation of his client, they stayed in touch and often shared advice on their cases. At Randy's request, Allen joined the Stepparent Adoption Center and now focuses his practice on stepparent adoption. The "of counsel" designation means he can continue to operate his own successful law practice while working with Randy on Stepparent Adoption Center cases.
Allen is married and is the father of three children. His daughter has followed the family tradition of Allen and his wife and is serving in the US Armed Forces. When not practicing law, Allen is active in his church and likes to coach youth sports. If you have a question about stepparent adoption not covered on the stepparent adoption page for your county, you are welcome to email a question to Allen@StepparentAdoptionCenter.com. When you are ready for a consultation with Allen to have him fully review the adult adoption process (laws, procedures, timetable, costs) you can complete the Stepparent Adoption Questionnaire and click "submit", and he will contact you within a few days to schedule a free 30+ minutes consultation, by Zoom or phone. Allen does all the stepparent adoption consultation and cases, and Randy does the adult adoptions (where the adoptee is 18+).
Client Reviews
(Reviews from Avvo.com)
⭐ ⭐ ⭐ ⭐ ⭐   Thank you Allen!
Posted by Anthony, June 13, 2022
Very nice and attentive and is willing to go above and beyond for you. Never once did we have to wonder what was going on with our case. He always let us know what was going on and always checked up on us. Thank you so much Allen for making my family whole.
⭐ ⭐ ⭐ ⭐ ⭐  Professional, knowledgeable and kind
Posted by Shyla, May 22, 2022
We are genuinely grateful for the adoption expertise we had with Randy. He was very professional, prompt and kind throughout. We did an adult adoption with our former foster daughter who resides out of state. All went smooth. I highly recommend his services if you're looking for an adoption lawyer!
⭐ ⭐ ⭐ ⭐ ⭐  Adoption
Posted by Delaney, April 10, 2022
Randy did an excellent job with our step parent adoption. He was friendly, responsive, very thorough, and his fees were fair. We are extremely grateful and truly appreciate him. Thank you Randy!!!!
⭐ ⭐ ⭐ ⭐ ⭐  Could not be more pleased!
Posted by Kenneth, January 8, 2022
It is a pleasure to deal with a man who does what he says he will do. On budget and on time. Mr. Hicks is a most pleasant man very professional and easy to converse with.
⭐ ⭐ ⭐ ⭐ ⭐  Adoption
Posted by Tim, January 31, 2021
Randy was super helpful and easy to use. This was my first experience using a lawyer for anything. He made the entire adoption process simple, informative, and as quick as possible.
15260 Ventura Blvd, Suite 1200 • Sherman Oaks, CA 91403 • (818) 582-2374
When you are ready to schedule a consultation, please complete the short questionnaire so Randy or Allen can fully advise you when you speak.